Tea Leaves: a memoir of mothers and daughters by Janet Mason (Bella Books April 2012) is now available -- click here for more info
"There is something here for everyone who has ever loved someone else or plans to. I highly recommend "Tea Leaves" just because it is so real and so beautifully written."–Reviews by Amos Lassen
read Janet Mason's latest piece in The Huffington Post --Chick-fil-A: What Would Gandhi Do If He Were Gay?
amusejanetmason.com ('s) premier featured writer:
Maria Fama -- Photograph of My Mother and Me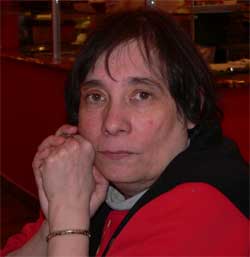 BIOSKETCH OF MARIA FAMA
Maria Fama is the readings/appearances of three
books of poetry. Her work appears in numerous
publications and has been anthologized. In 1998,
she was named a finalist in the Allen Ginsberg Poetry
Awards. Fama has read her poetry in many cities across
the country, read one of her stories on National Public
Radio, co-founded a video production company, and
recorded her poetry for CD compilations of music and poetry.
Maria Fama did her undergraduate and graduate work
in History at Temple University. She lives and works in
Philadelphia. Fama's poems were recently awarded
the 2002 Aniello Lauri Award in Creative Writing. Maria Fama
appears in the film documentary "Prisoners Among Us" reading one of her poems.
PHOTOGRAPH OF MY MOTHER AND ME
BY MARIA FAMA
I get for my birthday a tortoise shell frame
with a tiny black and white photo of my mother and me
taken decades ago in a seaside photo booth
I remember
We are on vacation
colored lights on whirling rides
the fragrance of salt ocean and roasted peanuts
music in an evening sky
men in light suits and aftershave
women in summer frocks and high heels
children in fancy dress-up clothes
we all stroll the Atlantic City Boardwalk
My mother and I pop into the tight little booth
for a photograph
a seabreeze wafts through the curtains
as Mommy puts in the coins and pulls me close
We smile at the automatic flashes
My mother is glamorous with ruby earrings
and swept back shiny black hair
she wears an elegant dress
I am a little geek with pussycat eyeglasses
in a dress with tiny roses and peterpan collar
Smiling for the camera with a snaggletoothed grin
I am supremely happy
because this beautiful young woman is my mother
she loves me holds me safe in her lap
giving me confidence
to see beauty wherever we find it
giving me strength
to savor the passing moments of living
and to prize this tiny photograph.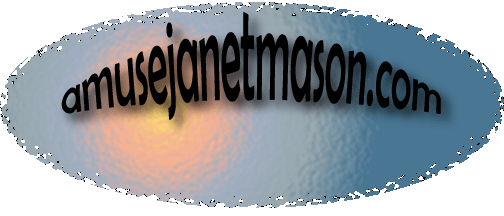 Click here to read Sappho, from Looking for Cover, poems by Maria Fama
Click here to read another poem by Maria Fama -- Drawing Stars

Click here to read/hear Janet Mason's review of Fama's Looking for Cover
Click here to learn how to submit to amusejanetmason.com