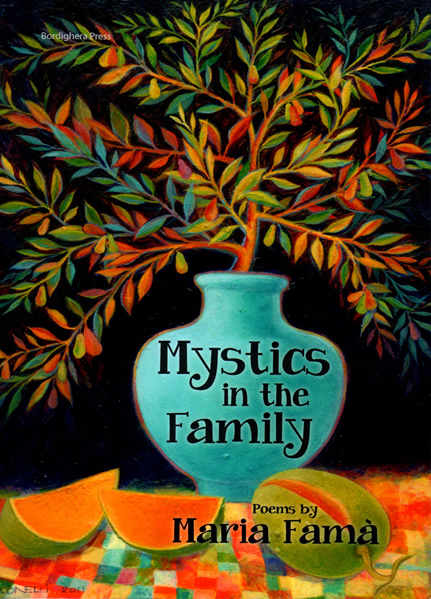 Maria Fama's new collection of poetry, Mystics in the Family, was published by Bordighera Press in 2013. It is available online or through your local bookstore. The cover art by Al Tacconelli is also available for purchase.For more information, contact altacconelli@verizon.net
For more poems by Maria and Al, click here
To see paintings and poetry by Al, click here
For more poetry by Maria Fama, click here
For more by Jim Cory, click here
For more by Jim, click here
In addition to all kinds of writing, Jim Cory takes an interest in birds, history, painting, the piano, architecture, yoga and strange conversations overhead. Not necessarily in that order. Poems have appeared recently in unarmed journal, Apiary, Burp, Court Green, ETZ (Australia), Lungfull!, and Skidrow Penthouse. He has been the recipient of fellowships from Yaddo and the Pennsylvania Arts Council. Rain Mountain Press published his No Brainer Variations in 2011. A selection of his poems appeared as a special section of Painted Bride Quarterly in 1985.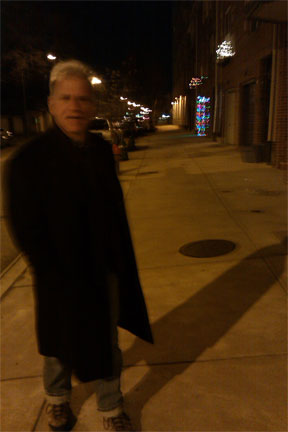 photo credit: Carolina Maugeri
(prev. published in Philadelphia Poets)
MYSTICS IN THE FAMILY
What does it mean to have mystics in the family?
Great Great Grandfather Giuseppe
fervent and ecstatic in his prayers
was granted the vision of The Souls of Purgatory
marching in procession
singing and holding up one index finger of fire
Great Grandfather Rosario
hypnotized animals to do his bidding
he used his "calamita" magnetism
to discern their thoughts and
read their hearts
Great Grandmother Mattia
told of a small white dog that led her home
when she was a child and lost
the dog disappeared at her door
she knew the little white dog was the soul
of Antonio her late father
Grandfather Francesco
lived in a house full of people and spirits
he saw ghostly goats, cats, dogs, chickens, and persons
walk up and down the stairs
mingling with his living family and animals
My Mother Francesca
always said her late father Pietro
dressed in his work clothes
appeared to her regularly
to warn of trouble ahead
My Father Rosario
always said he was saved in France
during World War Two
by The Madonna of the Rosary
for whom he was named
she commanded him to leave his foxhole
he obeyed and in an instant
a shell destroyed everything on the spot
where he'd just been
What does it mean to have mystics in one's family?
It means that I can claim it came naturally to me
when I stood transported one day
on bustling Ninth Street
all the vendors, hawkers, shoppers, delivery trucks
bathed in an unearthly beautiful light
It means I can say I have the knack
for seeing figures at the foot of my bed
for hearing the knocking of spirits
for witnessing the pranks of ghosts
It means it is a family trait that lets me
hear Mozart's music come out of airconditioners
see black shadowy hats on the heads of those
soon to depart this world
smell the fragrances of roses and aftershave
when the deceased visit
What does it mean to have mystics in one's family?
It means that one learns
that life is open
that life is more.
(prev. published in 5 AM) (from Jim's recently completed poetry manuscript, Chopped Liver)
French

"Not a day without a line." V. Van Gogh
At that dinner party, the guest of honor took the floor & became  a gust of horror.
You've got to admire the French. Their word for shower cap is "bonnet de douche"
He said: why don't you have your cats declawed? I thought: why
don't you have yourself declawed?
In a dream someone tells me my house smells 'French.'
When Pound said the entire United States is an insane asylum
he might have added the Philadelphia is the locked ward.
In the coffee shop glancing frantically for the umbrella tucked
securely beneath my arm.
"Good afternoon!" "It's not afternoon, m'am. What can I get for you?"
I would describe him as a clueless youth, in his mid-50s.
Well, another year has mysteriously vanished like ice cream from
the freezer.
In the old age home, hear the pitter patter of bitter feet.
Oscar Wilde on love and co-dependency:  "I stumbled on blindly like an
ox to the shambles."
I think it's so sad when men dye their hair. It just reminds me of autumn
on Mars.
I don't know why but every time I see a German Shepherd
I think of Hitler.
Tell someone who takes everything personally that she takes
everything personally & how do you think she'll take that?
Friends show those of us disposed to think only of ourselves
how not to.
Sunset: oven mitts composed of smoke saunter across
the Western sky, followed by a renegade party dress & fleeing
emphysema X-rays.
At Union Station in DC: "Now boarding. Business class first!" As when was it ever not?
That lady marching into the convenience store at 7:14 AM wearing
a hat that feels like the extinction of an entire species.
That man talking in the Chestnut Street phone booth: "Get your dirty, rotten ass out of my empire!"
I tell a friend the Census Bureau has sent me two questionnaires, one presumably,
for each personality. "In that case you'll probably be getting 8 more."
Phil treats everyone like the secretary he's too cheap to hire.
Shaw said: "Youth is wasted on the young." He might've added that wealth       
is wasted on the rich.
I don't get it.  Why 'French' kissing?
I keep thinking Carlos reminds me of someone I've never met. But who?
Days I feel as if I have my life on inside out & there's not a dressing room in sight.
It was one of those dates that begins in annoyance and ends in infamy.
She wrote as if she were a bohemian sex kitten when she looked like
a liverwurst snowman.
A friend who is an only child told me that all his life he wanted brothers
& sisters.  Then he met mine.
I said: I believe in giving people a second chance. He said: To do what,
stick something else up your ass?
Stay tuned now the national news with Jingo Sycophant.