New twist on an old favorite – the coming out story
The coming out story is as old as the hills – as old as Sappho's fragments first inscribed on papyrus – and as timeless.  I was delighted to come across two lesbian novels from Bywater Books that offer a new twist on an old theme, fictionalized versions of the lesbian coming out story more precisely described as coming of age stories.

What's Best for Jane, by Bett Norris, give us a different type of lesbian coming of age story – that of a friendship between an older woman and a young girl.  The novel is set in a small Southern town in the United States, where everyone knows everyone.  Jane is a girl who loves to read, who harbors a secret desire to be a writer, and whose desires are thwarted by her large noisy family.  She befriends Mary McGhee, an older woman, who shares Jane's love of literature and shares her books with her and offers Jane a quiet and safe haven, a place to read on her back porch.  Mary, who is fifty years older than the 10-year old Jane, was lovers with Jane's Aunt Lila, who died years ago in an automobile crash.  The book takes us through the next ten years of their lives, as Jane grows into a young woman increasingly resembling her late aunt.  The story is multi-layered and complex, delving into the antagonistic relationship between Mary and Jane's father, Lila's brother.  As Jane grows into a beautiful and serious young woman, she increasing reminds Mary of her lover who died.  As Norris writes:

"Jane was like a bright copper penny, new and shiny and real, a tangible reminder of those dulled images of Lila that grew fainter every day, no matter how hard she tied to hold them focused and sharp."

Mary's feelings toward the girl are mostly maternal, wanting to see her achieve her potential rather than being smothered by her family.  The story is multilayered and complex. It is rooted in time and place, giving us new insights on race and class.  It is universal in its portrayal of characters that captivate and it is written through a lesbian lens.  Ultimately, it resonates with uniqueness.
The Girls Club, by Sally Bellerose, is a different kind of lesbian coming of age story.  The Girls Club is the story of three sisters on the cusp on adulthood in a working class Catholic family in New England.   The protagonist is Cora Lee, the youngest.  Cora Lee is defined by a health condition that she calls the "dreaded bowel disease;" her place in the family order (as the youngest she is subject to her older sisters' taunting and the expectation that she will follow in their footsteps, and the fact that she likes girls. The writing is deft and Bellerose manages to bring together the condition of her character's "dreaded bowel disease" and doing a "Hail Mary" in one succinct paragraph.
Cora Lee falls in love with her childhood best friend, confesses the sin to the priest (who tells her she must never kiss a girl again), and then after her best friend moves away, Cora Lee becomes pregnant and marries the father.  She becomes a mother  -- an event that is life changing but does nothing to alter the fact that Cora Lee is still grappling with the fact of her sexuality.  In the small town where the story takes place, is a lesbian bar called The Girls Club, a place that Cora Lee is both fascinated by and fearful of. 

Cora Lee's excursions that lead her from lurking in the parking lot of The Girls Club to going inside with her new friends are in many ways a metaphor for her life.  She leaves her husband, becomes a student nurse and contends with the possibility of a custody case.  The story which takes place in the late 1960s and early seventies is placed in time by the mention of a Janis Joplin poster on the wall.  Eventually, Cora Lee accepts herself as a lesbian.  She finds some help along the way, from a woman she meets at The Girls Club.  Bellerose writes about Cora Lee's first sexual experience with another woman:

"In the morning, I'll feel sordid, stupid, sinful, scared to death.  I feel all those things now, but mostly I feel Anne gazing at me like I'm the most desirable woman she's ever laid eyes on.  I can't wipe the grin off my face."

The Girls Club is a complicated story about complicated lives. Through it all Cora Lee contends with her condition of what she calls the "dreaded bowel disease" that requires her to have an ostomy and wear a bag (a condition that presents challenges for intimacy).  After a series of dead end jobs, she attends nursing school and becomes a student nurse.  And she becomes a mother and comes to accept her sexuality.  In the end, it is not a story of girl meets girl, but a coming of age odyssey of how a young woman finds the courage to become herself.  Only then is she prepared to embark on the rest of her life.

As I read these coming of age stories, I am pulled not only into the character's lives but my own life, past and present, forced as we all are to recreate myself again and again.  Ultimately, the stories are a reminder that each of us is uniquely queer.
This review was recently aired on This Way Out, the Los Angeles-based lesbian and gay radio syndicate that airs across the U.S. and in 22 countries abroad.
No Brainer Variations
By Jim Cory
(winner of the 2010 Ronald Wardall Poety Prize)
In No Brainer Variations, poet Jim Cory distills the edgy essence of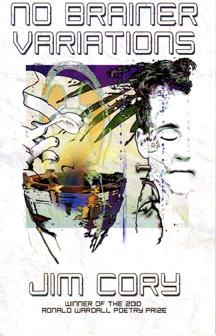 the moment.  In this slim volume, published by Rain Mountain Press, this important gay poet brings sage words of wisdom to live by in pieces entitled "what they say" where he chronicles the advice of experts to poets, writing, "They said: you must have pens for fingers, clocks for eyes" …. and  "They never said study the masters: being Dante, Neruda, Shakespeare, Lorca & Whitman" …. and "they never said: teach yourself to pay attention, that  you may pick up occasional blips on the soul's strange radar."
It is the "soul's strange radar," that Cory bring us, including his impressions of ghosts that march through the pages of No Brainer Variation. In 5 x 25, Cory writes
"16 years after his death I still sometimes hear
Michael's yuck yuck chuckle as if he were
Sitting a table away in
the Drag Queen Café or Detox Diner
what is silence but the filtered distillation of remembered noise"
In "Peckerwood," Cory brings us a found poem about a gay man who was found murdered.  In this poem, Cory juxtaposes newspaper quotes about the incident, including:
"made a sexual advance toward"   "painting of the Last Supper next to"
"locked him in the trunk of his"  "if he was gay he sure never"

……
Ending with

"….39, lived with his disabled parents"  "on the banks of Peckerwood Creek"
Cory descends into the depths but at the same time, he is no stranger to levity.  In the poem "chat," where Cory writes that he is "Tired of Dr. Jeckyl and Mr. Highness."  And lest the reader stands in judgment of the listing of gay sex requests which include the words, in all caps "BRUTALIZE ME"—Cory reminds us in his last line, "B4 you judge someone…STOP & REMEMBER we all see the same sun!"

Ultimately, Jim Cory brings us language that is living.  He takes us into reverie and at the same time jolts us into seeing life as it is and will never be again.